New Line Theatre is closing the current season with Be More Chill in a pre-Broadway version.
I attended Saturday evening.  While the rest of the run is sold out, some educator tickets and student tickets may be available each of the remaining evenings over the next two weekends.
I've been attending New Line shows for many seasons now, and I was employed by the company as Resident Music Director for three seasons.  My music-directing majors from Webster University have been involved for the last three years as well. (That's the full disclosure.)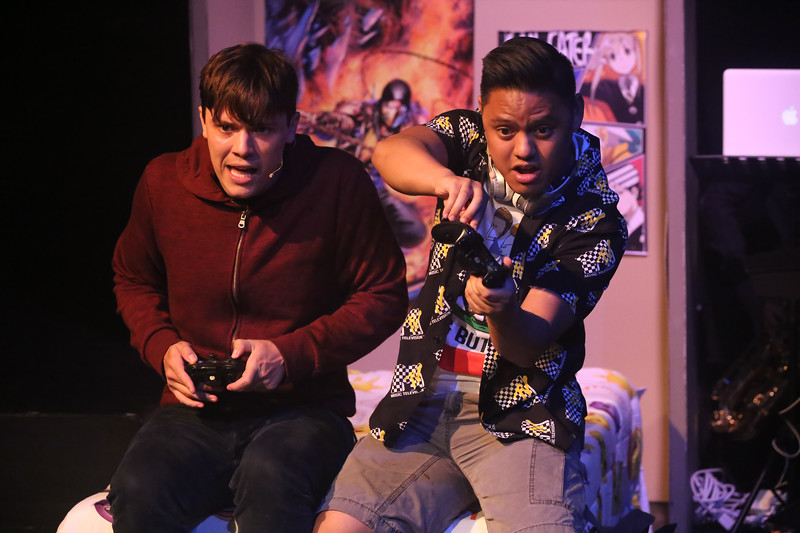 This production of Be More Chill is New Line's finest work in some time.  The show feels organic, complete, totally satisfying, with acting and singing that are uniformly strong.  Mike Dowdy-Windsor and Scott Miller pulled together a stand-out, believable cast full of age-appropriate types with pipes and the ability to make the characters zip off the page.
The show is subversive in some ways, starting out with apparent stock characters who then become increasingly complex.  And the big moments are delivered in song, which I love indeed. One standout moment — gripping and haunting and lingering in my mind today — occurs early in the second act, when the sidekick to the lead comes face-to-face with his own reality, delivered in the tear-jerking "Michael in the bathroom."  Kevin Corpuz has never had a better moment on stage.
Jayde Mitchell engagingly carries the show.  He has an appealing stage presence and a sweet voice that, after a few early moments of squishy intonation, locked right in.  His angst, his change in character, his moral dilemma — all carried the punch they needed to make this show work.
I was talking with Scott Miller after the curtain, and commented on how organic this show's humor is.  He noted that the show is not funny intentionally, but that the humor derives from the all-too-natural human situation.  As I've commented before, Scott is brilliant at directing shows where normal people do abnormal things.
Nic Valdez, Webster BM in Music Directing for Musical Theatre '19, is the music director.  The ensemble was rock solid, and the few choral moments were glorious.  The show was tight, with nary a slip of diction or a misplaced release.  Leading the whole production from the keyboard is Webster senior Marc Vincent, who with this show is making his first big outing leading the band while playing the show. His fingers barely leave the keyboard, and he's brilliant.  I was one proud teacher Saturday evening.
Other reviews, this time by professionals: